Graduation Caps and Gowns symbolize an important moment in the culmination of your students' academic careers. We carry high school graduation gowns, university commencement gowns, and even kindergarten cap and gown sets (we carry sizes all the way down to 2' 10"). We recommend orders for spring graduation be placed before January 15th, but will do our best to meet your needs even up to the week of graduation.
Caps and Gowns for Graduation
Graduation caps and gowns are long, flowing robes worn over a student's standard formal attire at a graduation ceremony. The gown and cap are made of matching polyester fabric, either shiny or matte. Gown sleeves hang wide and low. Caps hold to students' heads with stretch bands hidden under the material.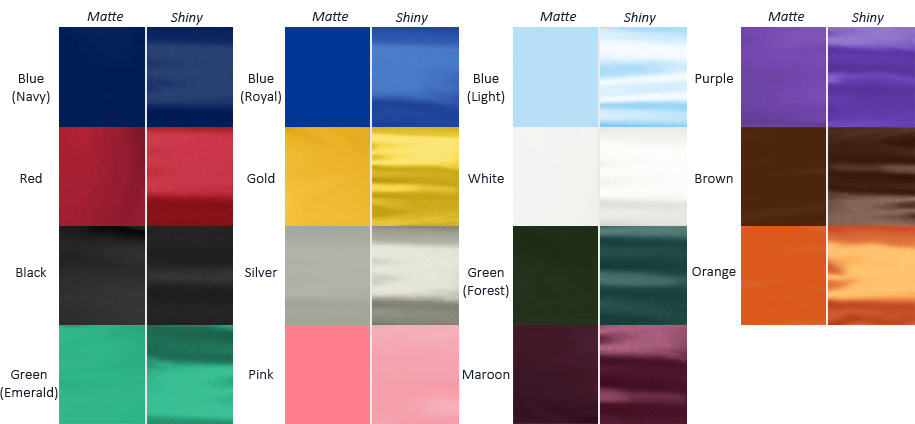 High School Graduation Gowns: High school graduation robes are either shiny or matte, depending on your school's individual commencement ceremony traditions. Some schools decide to have boys and girls wear different colors, usually in the school's colors. This is becomming less common. High school gowns are usually purchased by the school and distributed to students according to information packets detailing size requirements, among other things, which are distributed to the students earlier in the school year. Schools will often have the graduates submit checks along with the information packets to cover the cost of their cap and gown, although this is done according to school preferences.
College Graduation Gowns: College graduations may see students wearing shiny or matte gowns in the school's colors, although black matte gowns are most common. College gowns are purchased by the school and distributed to students, usually through the school bookstore. College gowns are more likely to be rented by students and cleaned and reused as long as their good condition is maintained.
Middle School Graduation Gowns: Middle school graduations most often see students wearing shiny robes in the school colors. The gown is usually purchased by the student through the school through an information packet including the required size.
Preschool or Kindergarten Graduation Gowns: Kindergarten, pre-k, and preschool graduation gowns are usually shiny gowns in the school colors. The gown is usually purchased by the school and costs passed along to students through as a set graduation fee.
Customer Reviews for Graduation Caps & Gowns
Gown Colors - Get your graduation gown in any of the following colors in either shiny or matte fabric:
Shiny Gowns
Matte Gowns
Fabric Style - Academic gowns come in two different finishes, shiny and matte. Shiny robes are made of a lighter cloth with a more reflective, glossy finish. Matte gowns are made with a slightly heavier fabric that absorbs more light instead of reflecting it. Because of differences in the materials used, shiny gowns are slightly less expensive to manufacture.
Reusability - The most common request from schools is to order a commencement cap & gown + tassel set for each student for every ceremony. It is not uncommon for a school to have gowns that are retained by the school and reused each year, so only the cap and tassel need to be reordered annually and are given to the students as keepsakes. While we do not have a gown rental system, some schools purchase the gowns from Honors Graduation and then rent the gowns to their students.
Ordering System - Many schools order and pay for their graduation cap and gowns on behalf of their students, or the school places the order with us and passes the cost on to students. Alternately, we have an option for students to place their orders directly through our website on a custom page created just for your school. If you have any questions about either option, let us know!