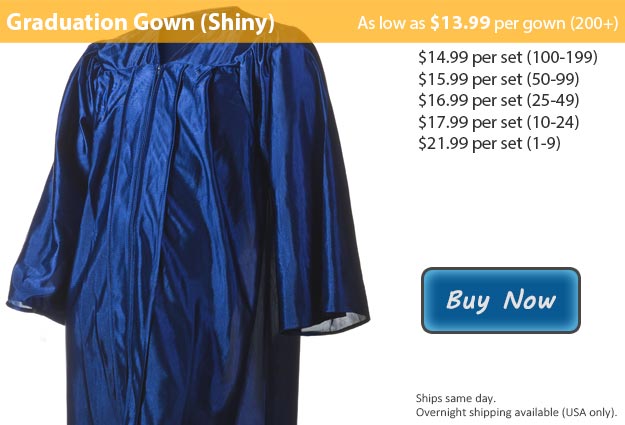 Shiny navy blue graduation gowns will bring a level of sophistication to your graduation ceremony. Graduation has been creeping up fast and it's just around the corner now! Graduation is a time when your family and friends all come together to honor the success of your hard work and dedication. You have earned this celebration with your day in and day out commitment to your goals which is finally paying off. I'm sure that in addition to all the obstacles that you were faced with that you managed to cross paths with a few new friends and created some unforgettable memories in the process.
This graduation ceremony marks the end of one adventure and the start of a completely new and exciting one. It is normal for graduating students to wear a cap and gown accented with usually tassels or graduation cords. Typically students wear attire that matches their fellow graduates, most commonly to match what is worn by your school. Our shiny navy blue graduation robes might be just what you're looking for! A classic option that will look great with just about any color combination of tassels and cords. Buy just the gown or get the robe/cap combo and we'll add the tassels of your choice at no additional cost to you!
Our graduation robes here at Honors Graduation come in a large variety of sizes for anyone just under three feet to any one seven feet tall including several plus sizes. In addition to a vast size selection each color that we have is also available in matte as well as shiny. Whenever you purchase a graduation cap from us we will include your tassels as well. Our cap & gown + tassel combination was created for your convenience, giving you fast and easy shopping. Be sure to check out the rest of our inventory for all of your graduation gifts and memorabilia.
Not what you're looking for? Check out our Complete List of Graduation Gown Fabrics and Colors.
This graduation robe is also available in Navy Blue Matte Fabric.