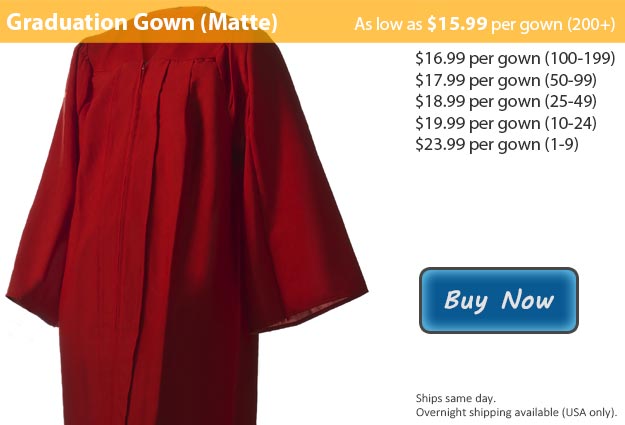 Matte maroon graduation gowns are a remarkable choice, usually worn by students graduating in either communication or journalism.
As graduation gets closer there is no doubting it now, you have worked long and hard to get to where you are today. Your loved ones and a great deal of your peers will surely be there to help you celebrate this monumental step in your life. You have earned this celebration thanks to all of your efforts and your never ending desire to succeed. Here at Honors Graduation we offer only the very best in graduation attire to ensure your graduation day goes just as planned. We're certain that throughout the duration of your schooling you met plenty of new friends and made a few great memories too. During your ceremony take some time to reflect on those positive moments as well as the constant challenges that you have overcome to reach this point. As you close this chapter and take your first steps into your next adventure, you now know that you are capable of anything you set your mind to with the right amount of determination.
Graduating students are known to wear a graduation cap, robe, and their choice of additional accessories (tassel, cords, stoles for example). Here at Honors graduation we have a large selection of graduation gear. For our graduation gowns, each color option that we have available with the matte finish is also available in a shiny finish as well. Our Cap & Gown + Tassel deal includes all of the basics that you need to get you ready for graduation. The bundle comes with your graduation gown, matching cap and a free tassel of your color choice! Each item found in our inventory is also available for separate purchase as well for your convenience. When you buy your graduation cap from Honors Graduation we will toss in a complimentary tassel at no additional charge to you.
Not what you're looking for? Check out our Complete List of Graduation Gown Fabrics and Colors.
This graduation gown is also available in Maroon Shiny Fabric.