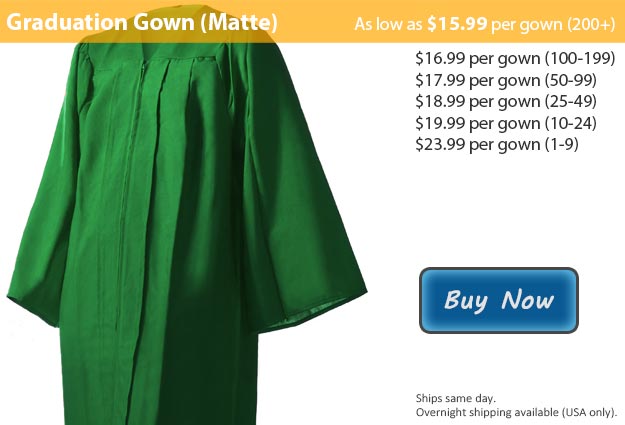 Matte green graduation gowns are most commonly worn by those graduating in medicine. Our matte gowns in emerald green are an astonishing option.
As you join your peers for your graduation this year, Honors Graduation is here to help you look amazing. When it comes to graduation gear we carry only the best in attire and accessories allowing you to focus on your monumental day. You have worked incredibly hard, enduring year after year of constant challenges, you deserve a celebration and graduation is just that. Graduation is the time when your family and friends all gather to show how proud they are of you and help you enjoy the party! Be sure to remember all of the experiences that brought you to this point, whether it be a failure that you were able to learn from or a friend that helped you along the way. No matter what lies in your path now you know that you are capable of accomplishing anything with the the right amount of determination.
It is tradition for students who are graduating to wear a cap and robe, usually decorated with various combinations of graduation cords, tassels, and stoles. Our graduation gown in matte emerald green is an astonishing option and is most commonly worn by those graduating in medicine.
Not what you're looking for? Check out our Complete List of Graduation Gown Fabrics and Colors.
This graduation gown is also available in Emerald Green Shiny Fabric.