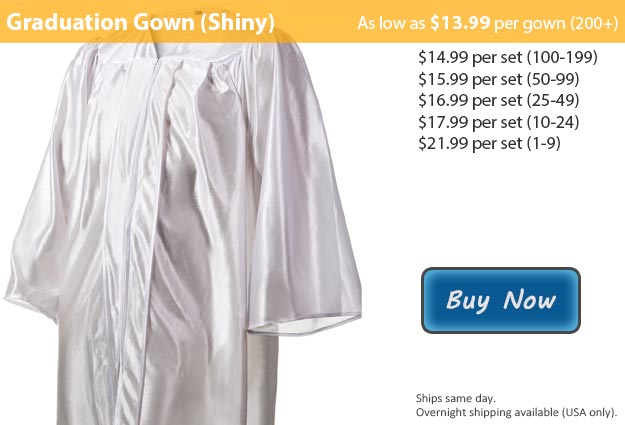 Shiny white graduation gowns are simply stunning. They are typically worn by students graduating with a degree in language and provide an excellent contrast for each of our graduation accessories that we have available.
After working so hard and dedicating so many years, it is time to be rewarded for all of your efforts. Your graduation is the time when your family and friends gather to honor your success and help you to celebrate on your unforgettable day. You were faced with countless challenges along the way but you were able to overcome each of them and endure all the way to the very end. I'm sure in addition to your studies you managed to meet some new friends and even create a few wonderful memories that you won't soon forget. No matter what your goals may be, you have proven that you are fully capable of conquering your dreams.
Graduation marks a whole new chapter in your life, Honors Graduation has everything you need to get ready. Normally graduating students wear a graduation cap and gown for their ceremony, commonly with cords or a tassel as well. At Honors Graduation we carry only the highest quality of graduation attire with fantastic deals to help you finish your graduation shopping in no time. Our most convenient package is our Cap & Gown + Tassel deal, it includes your robe and matching cap along with a free tassel of your color choice. All of our graduation items are available for separate purchase as well, allowing you to mix and match options. We have each color of our shiny gowns available in with a matte finish as well. We have a large variety of robe sizes ranging from 24-66 including many plus sizes. Whenever you buy a graduation cap from us at Honors Graduation we will throw in a tassel of your choice at no additional cost to you.
Not what you're looking for? Check out our Complete List of Graduation Gown Fabrics and Colors.
This graduation robe is also available in White Matte Fabric.