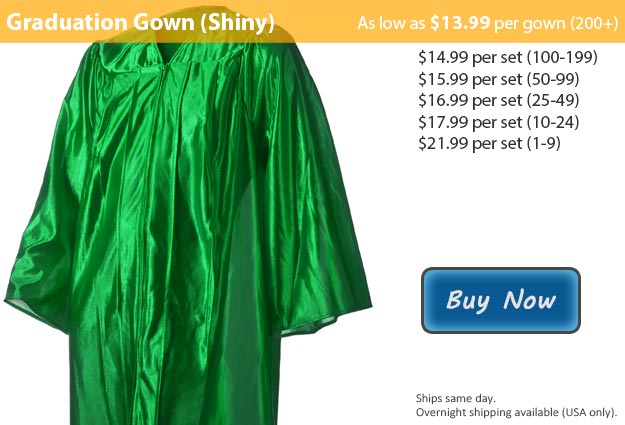 Shiny green graduation gowns will make you look your best as your friends and family gather so they can honor you for your hard work and overwhelming dedication. Don't forget that your graduation is also a time for celebration! You have given up hour after hour of your time between classes, homework, and studying in order to make it to this moment right here. I'm sure your sacrifice has been worth the trouble, with all of the unforgettable memories you created and the incredible new friendships built over the past few years. The obstacles that stood in your should be a reminder that you are capable of reaching your goals as long as you give it your all and never give up.
As you accept your diploma or degree you are turning the page onto the next chapter of your life so it is important to dress appropriately. Students who are graduating wear a cap and robe at the time of their ceremony, often accented with either graduation cords, tassels, and even stoles. You will undoubtedly love our shiny emerald green graduation gowns, a glistening choice that would compliment any of our graduation cords and tassels. There are many reasons you might choose this color, students graduating in the field of medicine have been known to represent themselves with this matching cap & gown set in emerald green, whatever your reason you can be positive that you are going to look fantastic.
At Honors Graduation our main priority is helping you look your best on this monumental day, that is why we only use the best materials for the construction of our products. We offer bundle deals for your convenience, making shopping for your graduation attire easier than ever. Each of our shiny gown options is also available in matte as well, both of which come in a large range of sizes. Anytime you purchase a graduation cap from us, as a part of a package or separately on its own, we will throw in the tassel set of your choice at no additional cost to you!
Not what you're looking for? Check out our Complete List of Graduation Gown Fabrics and Colors.
This graduation gown is also available in Emerald Green Matte Fabric.