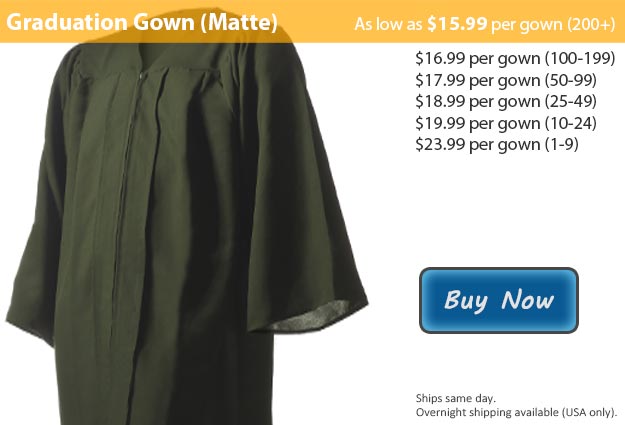 Matte forest green graduation gowns are a great way to showcase your success! Graduation my not be the most simple task that you've set out to complete, but thanks to years of dedication and giving it your all, you have finally made it! Your graduation is more than a celebration, it is a ceremony where your family and friends will all be there to give you their support. Be sure to make them proud by looking your absolute best as you accept your diploma or other degree. Here at Honors Graduation we know just how hard you had to work in order to reach this point so we've made the shopping process as easy as possible. We have everything you'll need to be ready in time and so much more all in one location. Graduating students, following the tradition that has been in place for many years now, wear a cap and gown at the time of their graduation ceremony. Our graduation gown in matte forest green is a softer, dark option that contrasts very well with most of the graduation accessories that we have available. Graduates who choose forest green for their graduation gowns are usually those graduating in pharmaceutical sciences as well as physical therapy.
Our robes in matte are an exquisite way to represent yourself this graduation but we also have each color option available with a shiny finish as well. Our Cap & Gown + Tassel bundle includes all of the basic necessities to get you ready for graduation, a gown along with the matching cap and a free tassel of your choice. We have a large selection of graduation accessories from cords of all colors to medals specifically honoring the valedictorian, we even have keychain tassels that make for a great keepsake. Our gowns come in a large variety of sizes from 24-66 including multiple plus sizes. Whenever you purchase a graduation cap from Honors Graduation we'll throw in the tassel of your choice at no additional cost to you.
Not what you're looking for? Check out our Complete List of Graduation Gown Fabrics and Colors.
This graduation gown is also available in Forest Green Shiny Fabric.