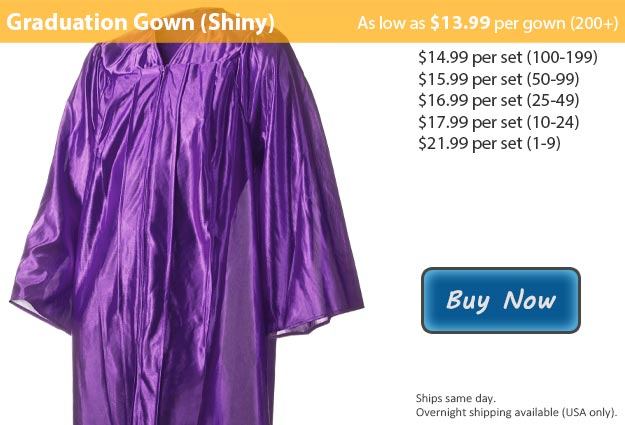 Shiny purple graduation gowns are the ideal choice for those graduating with their law degree, or it is also common for graduating students to match their robe with their school color.
It has been a long time coming, and thanks to your complete dedication and maximum efforts along the way you have finally reached your goals of graduation. Here at Honors Graduation we have everything you might need or want to get ready for this memorable day. From the graduation gowns that you wear during your ceremony to various keepsakes such as keychains & year charms, we have it all. Graduation is the time to celebrate all of your hard work, a time when your friends and family come together in order to honor you for your success. I'm sure there were a number of obstacles in your path but thanks to your consistency, and maybe a little bit of help from your friends, you were victorious! Now you know that you are capable of anything that you set your mind to. As you close this chapter in your life the beginning of your next adventure is just around the corner.
It is tradition for graduates to dress in a cap and gown, usually accented by a tassel or cords during their ceremony. Honors Graduation has a large inventory of graduation attire, each item is constructed using only the best materials to ensure you look amazing on your important day. You may purchase your cap and gown separately or we have an excellent package deal for quick and stress free shopping. Our Cap & Gown + Tassel deal includes your graduation gown and cap, and we will throw in the tassel of your color choice for free! If your buy your cap separately we will still add the tassel at no additional cost to you. Our gowns come in many different sizes ranging from 24-66 in addition to multiple plus sizes. We also offer each of our shiny gowns in a matte finish as well
Not what you're looking for? Check out our Complete List of Graduation Gown Fabrics and Colors.
This graduation robe is also available in Purple Matte Fabric.