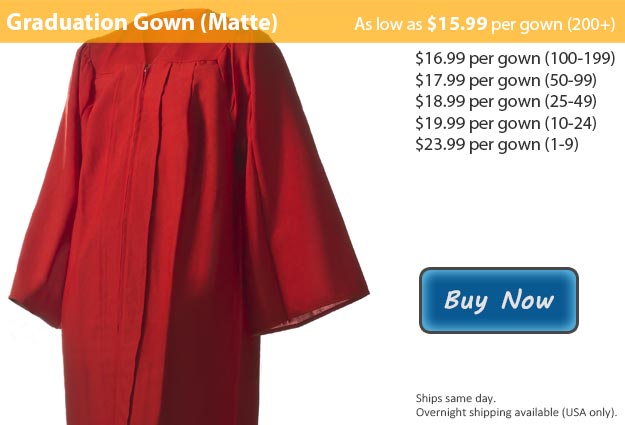 Matte red graduation gowns are a superb way to go, it is the option most commonly worn by students graduating with their degree in communication as well as journalism.
At Honors Graduation we know that it takes quite a bit of dedication to reach your goals, especially when it comes to your graduation. In addition to remaining focused for so long you were also required to overcome numerous challenges. Thanks to your hard work and perseverance you have hurdled every obstacle in your path and you now know that you are capable of accomplishing anything that you set out to do, even if it may seem extremely difficult at first.
Your graduation is a ceremony where you gather with your fellow classmates for a grand celebration meant to reward you for all of your efforts. It is crucial to dress appropriately at the time of your graduation as your friends and family will surely be there to honor you for your success and help you to enjoy your celebration. Graduating students typically wear a graduation cap and robe during their ceremony.
Here at Honors Graduation we have everything you need to be prepared for your graduation, from custom orders to the basic necessities. We have various package deals for your convenience with the graduation shopping process. Our Cap & Gown + Tassel bundle includes your matte red robe, the matching graduation cap, and a free tassel of your color preference. To make it even easier for you we also have each of our listed items available for separate purchase as well, allowing you to buy exactly what you are looking for. Each of the matte graduation gowns that we have are also available with a shiny finish. Whenever you purchase a graduation cap from Honors Graduation we will throw in the tassel of your choice at no extra cost to you.
Not what you're looking for? Check out our Complete List of Graduation Gown Fabrics and Colors.
This graduation robe is also available in Red Shiny Fabric.