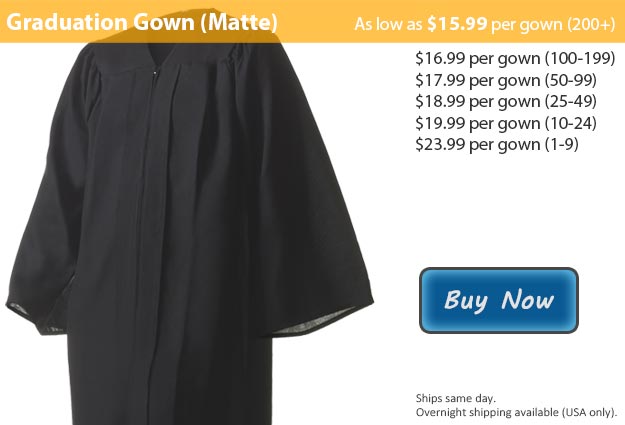 Matte black graduation gowns make a great backdrop for your graduation accessories, allowing the colors of your cords and tassel to fully flourish.
After years of hard work and an enormous amount of sacrifice, it is time to celebrate! Graduation is the celebration dedicated to you and specifically your success over these past years. Your friends and family will all be there to cheer you on as this portion of your life comes to a satisfying halt and your next chapter begins. With graduation just around the corner, Honors Graduation can help you get ready in time for your monumental day. I'm sure that you had the opportunity to make plenty of new friends and shared a number of lasting memories along your journey, but it wasn't all fun and games. As you faced numerous obstacles you were able to stayed focused, confirming that no matter how difficult something may seem you can conquer your dreams with the right amount of determination. It is common for graduating students to dress in a cap and gown , usually highlighted with a tassel, stole, cords, or a combination of all three. A great option for your graduation wardrobe is our matte black graduation robe.
We have a number of bundle deals to make your graduation shopping as easy and stress free as possible. We have a Cap & Gown + Tassel deal that includes your gown and matching cap, plus the tassel of your color choice at no additional cost to you. You will also find that each item from our inventory is also available for separate purchase as well. Whenever you purchase your graduation cap from Honors Graduation we will toss in a tassel (of your color choice) for free. Each of the color options that we have for graduation robe in matte is also available with a shiny finish as well.
Not what you're looking for? Check out our Complete List of Graduation Gown Fabrics and Colors.
This graduation gown is also available in Black Shiny Fabric.