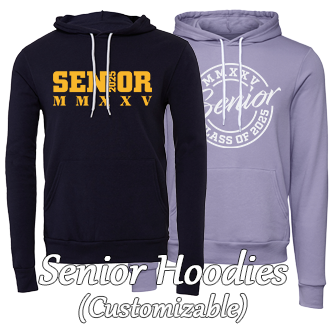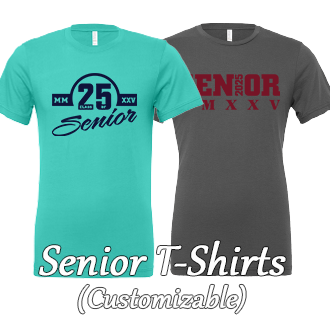 If you are looking for other senior gifts, please check out our Keychain Tassels.
At graduation, you are going to look sharp in your Cap and Gown. But you can also look sharp all year long in a Graduating Class t-shirt or sweatshirt! You have worked hard over the years and are finally ready to graduate! Show off your incredible achievement every day in a custom hoodie or t-shirt. You choose the color of the apparel, your favorite design option, and the color of your design – there are hundreds of possible combinations.
If you are ordering a hoodie, you can choose to add your school's name down the right sleeve or your name across the back in the color of your choice.
Mix and match the color of your senior hoodie or t-shirts and the color of the design.
The material we have chosen for the sweatshirts and t-shirts is a high-quality, incredibly soft cotton-poly blend. They are durable and oh-so-cozy!
Our shirts and sweatshirts are also true to size – just order the size you normally wear. The senior sweatshirts have a hood with a drawstring and a front pocket to help keep you warm when walking to and from class.
Please allow 1 to 3 weeks from time of ordering for production. Shipping time will be added to the production time – please keep this in mind when choosing your shipping speed (standard shipping takes about 1 week at the most to get from us to most places in the United States).
We offer bulk pricing! If you are interested in placing a bulk order for your school's entire graduating class and would like to discuss bulk pricing, please contact us.