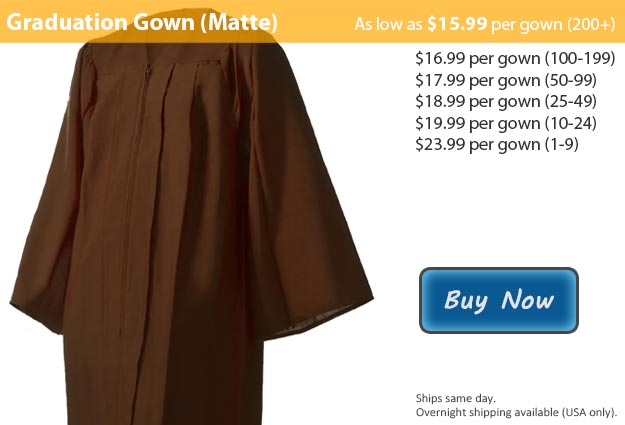 Matte brown graduation gowns are an outstanding way to go, the subtle earthy hue is perfect for students graduating in various art fields.
Graduation is coming up quick and Honors Graduation has just what you need to be 100% prepared for your big day. It takes an immense amount of work as well as your complete dedication to successfully achieve your goal of graduation. Your friends and family will gather from all around not only to join you in celebration but to show how proud they are of you and to give you their full support on your future endeavors. As you get ready to part ways with certain friends that you have met on your journey be sure to reflect on all of the great memories that you created as well as the hardships you managed to overcome. Thanks to all of your trials along the way, you know now that with the right amount of effort anything is within your reach as long as you are focused.
Graduating students are most commonly seen wearing a cap and robe at the time of their graduation ceremony, this has been the tradition for many years. Here at Honors Graduation we offer a package deal including your graduation Cap & Gown + the tassel of your choice for quick and easy check out. Each of the items are also available for separate purchase as well for your convenience. Our gowns come in a large variety of sizes including several plus sizes, accounting for graduates 3 to 7 feet tall. In addition to our caps and gowns we have all of the accessories that you might want, from cords to keychains we have it all! Each of our matte colors is also available with a shiny finish as well. Whenever you purchase your cap from us we will throw in a graduation tassel (your color choice) at no additional cost to you.
Not what you're looking for? Check out our Complete List of Graduation Gown Fabrics and Colors.
This graduation gown is also available in Brown Shiny Fabric.