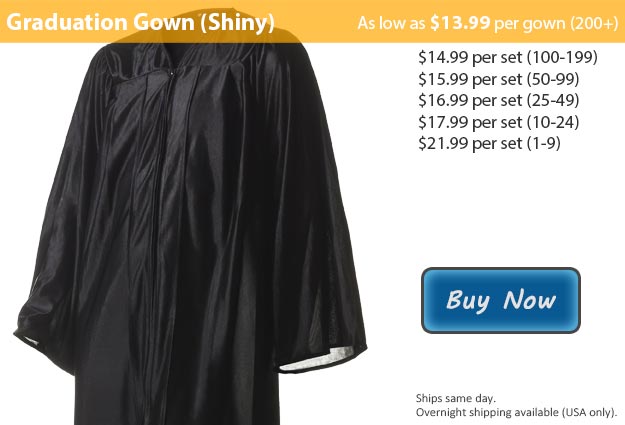 Shiny black graduation gowns are going to make you look sharp because, after so many years of hard work have been completed, you are due for a celebration. Graduation is a time when your family and your close friends come together in order to honor your dedication and help you have a memorable day. Successfully completing all of the challenges that you were faced with does not come easy. Through all of your hard work you know now that you can accomplish whatever you set your mind to with the right amount of effort and determination. Hopefully you were able to make plenty of long lasting friends and a pool of fond memories throughout the duration of your schooling.
Graduation represents your triumphant completion of one adventure and the very beginning of your next. Traditionally, graduating students dress in a cap and robe as they attend their graduation ceremony and receive their diploma or degree. Here at Honors Graduation we have everything that you will want or need to have you ready for your big day.
Our shiny black graduation robe is an excellent choice that you can be certain you will look outstanding in. Each of our color options for our cap & gowns are available in matte as well as shiny so now matter what your requirements are we have the perfect set just for you. You can even purchase your gown and cap as a set for convenience and quick shopping or separately if you prefer. We will even throw in your tassels when you purchase your cap from us making us your one stop graduation shop (color chosen separately)! Our shiny black gowns come in a large array of size options all the way from 24 up to 66 include several plus sizes, perfect for anyone as short as 2 foot 10 inches to 6 feet 11 inches!
Not what you're looking for? Check out our Complete List of Graduation Gown Fabrics and Colors.
This graduation gown is also available in Black Matte Fabric.