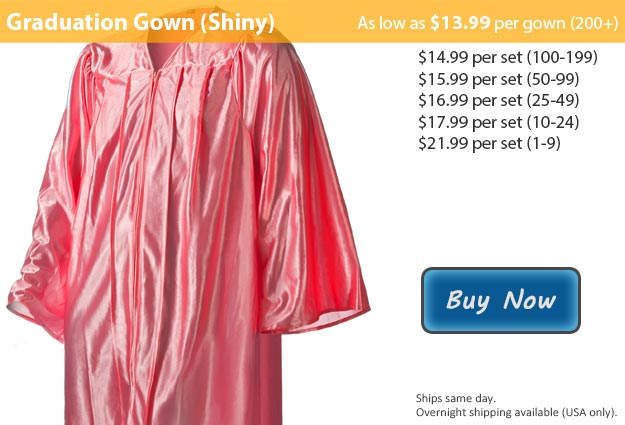 Shiny pink graduation gowns are most commonly worn by students who are majoring in music; representing their degree.
With graduation just around the corner, Honors Graduation is here to help you with all of your wardgown needs to get you ready in time for your important day. Graduation is a time when your family comes together to honor this great feat that you have just conquered. Enjoy your celebration, you have earned it! As you spend this memorable day surrounded by loved ones and friends that you may have met along your journey, be sure to reflect on the hardships that you were faced with as well. Successfully reaching this point and achieving your goals of graduation did not come easily. As you had to deal with a number of challenges you managed to stay focused and kept up the hard work, with the right amount of determination and effort you can do anything that you desire.
It has been tradition for a number of years now for graduating students to wear a cap and gown at the time of their graduation ceremony. At Honors Graduation we make it our duty to bring you only the very best in graduation attire. We have shiny pink gowns available for separate purchase or in one of our package deals. We also offer each of our gown colors in a matte finish as well if you prefer. All of our shiny and matte graduation gowns are available in a large variety of sizes, from 24-66 including several plus sizes in addition. Our shiny pink Cap & Gown + Tassel deal includes your shiny gown and the matching cap, plus we will add the tassel of your color choice at no extra cost to you. Even if you decide to buy your cap separately (occasionally students are permitted to decorate their graduation cap), we will still throw in a tassel for free!
Not what you're looking for? Check out our Complete List of Graduation Gown Fabrics and Colors.
This graduation gown is also available in Pink Matte Fabric.