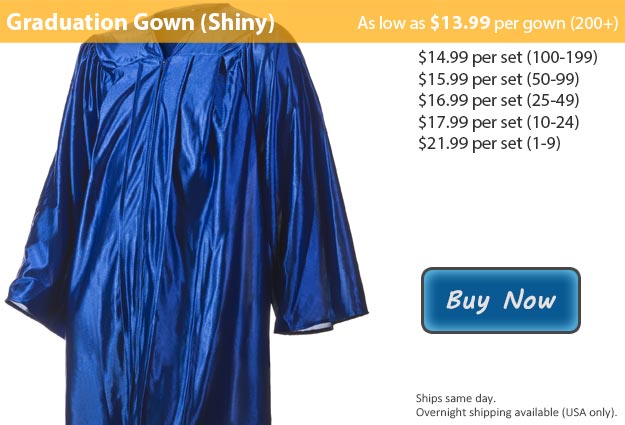 Shiny royal blue graduation gowns will make your students feel proud when wearing them! Here at Honors Graduation it is our goal to help your graduation day go off without a hitch, that is why we carry only the finest in graduation attire. Your graduation is all about celebrating you and the success that you have reached over these past few years. That is why your friends and family gather from all over, to honor you and show you their support. You didn't make it this far without facing a challenge or two that obstructed your path, but thanks to all of your consistent efforts now you know that you can overcome anything standing in your way. I'm sure you managed to meet some interesting people and maybe even make some great friends as well. So as you accept your diploma or degree during your graduation ceremony remember that it is not only the end of a long page but also the beginning to a whole new chapter, and you are the author.
Graduating students wear a cap and gown as well as graduation cords, tassels, or both at the time of their ceremony, this has been the tradition for many years. The shiny royal blue graduation robes that we have to offer are an extraordinary choice. You will look your best and and fit in great amongst your peers on this memorable day.
All of the various colors of graduation robes that we have in shiny are also available in matte as well. Our graduation robes also come in a huge variety of sizes, from 24 to 66 we literally have you covered. For your convenience, you may purchase your gown separately or as a package deal which includes the matching cap and a tassel. Whether you but your cap as a part of our deal or separately, we will still include a tassel of your color choice at no additional cost to you.
Not what you're looking for? Check out our Complete List of Graduation Gown Fabrics and Colors.
This graduation robe is also available in Royal Blue Matte Fabric.