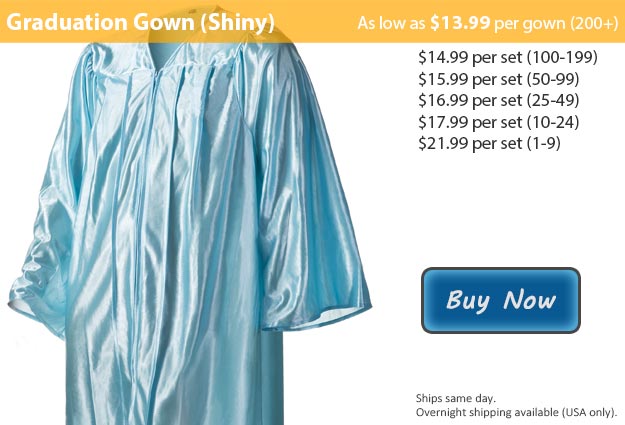 Shiny light blue graduation gowns are the perfect way to display your success! Graduation is not only a time for the celebration of your success, but it is also a time when your family gathers from all over in order to honor you and your many accomplishments. You have put in the time and hard work to get to where you are today and they want nothing more than to give you their love and support for you to make it a day that you will surely not forget anytime soon. Even though there were an untold amount of challenges along your path you were able to keep plugging along. Thanks to your nonstop persistence and your maximum efforts you can now be certain that no matter what your goals are you can reach them if you set your mind to it. I'm sure that it wasn't all hard work and struggles though, hopefully you were able to make some great friends and made a few unforgettable memories along the way.
The reason your graduation is so important is because it marks the turning of the page in your book of life onto the next chapter. It helps to look the part when the time comes to make that fateful walk and collect your diploma or other special degree. Graduating students almost always wear a cap and gown during their ceremony and here at Honors Graduation we have that and so much more!
It is our goal here at Honors Graduation to help you look the best you possibly can for your big day. Our shiny light blue graduation robes are a simply brilliant way to go and will complement your graduation cords and tassels perfectly. Whenever you purchase a graduation cap from us, we'll throw in your tassel at no extra cost to you! We even have packages including gowns, caps, & tassels for fast and easy shopping. No matter what your school requires of you we have just what you're looking for. All of our shiny gowns are also available in matte as well and we have sizing options for anyone 2'10" all the way up to 6'11" so you have nothing to worry about.
Not what you're looking for? Check out our Complete List of Graduation Gown Fabrics and Colors.
This graduation gown is also available in Light Blue Matte Fabric.