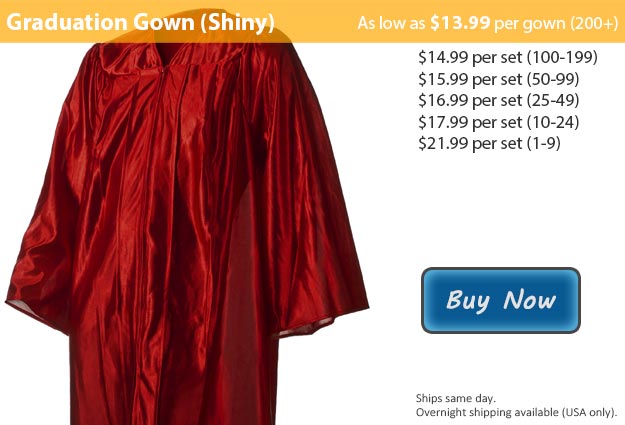 Shiny maroon graduation gowns are a fantastic choice for any graduating class! Graduation is a time of celebration, when your friends and family gather from all over to honor you and your success. They know the level of determination that it took in order for you to reach this point and they want to help you make it a day that you won't soon forget, especially since you'll look so sharp in your shiny maroon graduation robe. You have given it your all over these past few years to get to where you are today, dedicating countless hours to your classes, daily homework, and studying for exams. Despite all of the constant challenges you were faced with you were able to overcome them due to your perseverance and hard work. Hopefully you made some great friends to enjoy the adventure with and probably even a couple of unforgettable memories as well. Your journey has taught you that nothing is out of reach when you focus and work hard. As this chapter comes to an end with your graduation, the next is just beginning.
Graduating students are known to wear a cap and gown during their graduation ceremony, usually complemented with graduation cords or tassels. Our shiny maroon graduation gowns are a fantastic route to take this graduation, a very dynamic look when combined with the right cords.
At Honors Graduation we are here to help your graduation day go perfectly by ensuring there are no wardgown hitches along the way. We have all of your graduation attire needs right here in one convenient location and we use only the very best materials for each of our products. Our shiny gowns are each available in matte as well, purchase your gown separately or as a part of our cap & gown + free tassel package for quick checkout. We have a large selection of sizes, ranging from 24-66 including multiple plus sizes. Whenever you purchase a graduation cap from us at Honors Graduation we will through in a free tassel of your color choice!
Not what you're looking for? Check out our Complete List of Graduation Gown Fabrics and Colors.
This graduation robe is also available in Maroon Matte Fabric.