Graduation tassels are colorful bundles of thread hanging from a gold or silver clasp, often worn on a graduation cap or distributed as commemorative keepsakes. Tassels measure nine inches, not including the loop from which the tassel hangs. Graduation tassels come in 60+ colors and combinations.
Graduation Tassels
Tassels for graduation are usually worn on a graduation cap during a high-school or university commencement ceremony. Each graduation tassel also can include a small metallic graduation year charm indicating the year, including options for past years.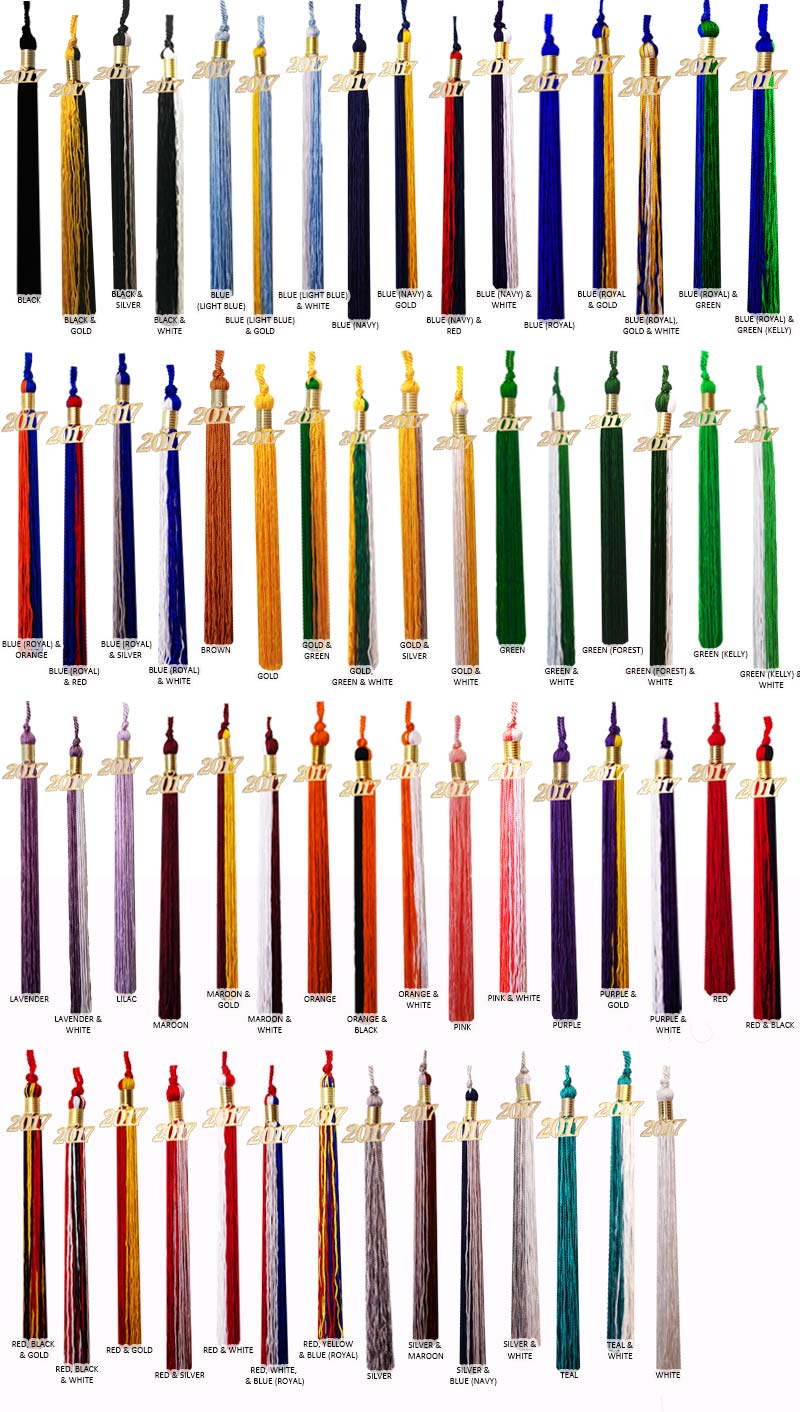 Tassels from Honors Graduation are the perfect fit for your graduate or graduating class. We offer a variety of colors and color combinations, with custom tassels available when ordered in bulk or in advance. And now the tassel, cord, or stole your graduate needs comes at the right price.
School Administrators and Special Considerations
Do your upcoming graduates need graduation tassels for an upcoming graduation ceremony or as memorabilia or souvenirs?
If you work with an educational institution, need to obtain a large quantity of tassels, or have special purchasing restrictions, don't worry, we've got you covered!
We accept

purchase orders

and all major credit cards. Additional PO instructions can be found during the order process.
International shipping is available for an additional fee.
Call us to find out more about bulk discounts and volume pricing.
Additional tassel colors (other than what is listed on our website) can be arranged for bulk or recurring orders of 100 or more or for extended purchase contracts in cases where enough advance notice is provided.
We offer graduation tassels designed both to be worn with a cap and gown as well as commemorative tassels perfect for hanging from rearview mirrors. Graduation tassels are available in bulk or as single purchases by individual students.
Graduation cap tassels, graduation sashes, graduation cords and honor cords are available from Honors Graduation in a variety of color combinations. If you are looking for a particular color, style, or material that you don't see listed on our website, just ask!
Customer Reviews for Tassels
Highest-quality grad tassel,

money-back guarantee

. If you are not satisfied with your purchase for any reason you can cancel your order and return the tassels to us for your money back. If the return was for a reason other than a mistake on the part of Honors Graduation or a faulty or defective product, the cost of shipping both ways will be handled by the purchaser. All tassels, defective or otherwise, must be returned within 7 days to qualify for our money-back guarantee.
Tassel colors shown above are intended as a guide but may display differently depending on your monitor, web browser, or system settings. If you have specific questions about what tassels look like, give us a call, we can help!
Although some discrepancy exists about which side of the cap the tassel should be worn on, generally undergraduates wear tassels on the left and post-graduate students wear tassels on the right. Occasionally students will switch the tassel from one side of the cap to the other after receiving their diploma, and sometimes students graduating on the honor roll or with latin honors ("cum laude") will have a unique tassel color to mark their achievements.
If you think you can beat a rate you found on our website, call us, we'd love to talk to you!
Graduation tassel with your high-school, college, or university graduate in mind!