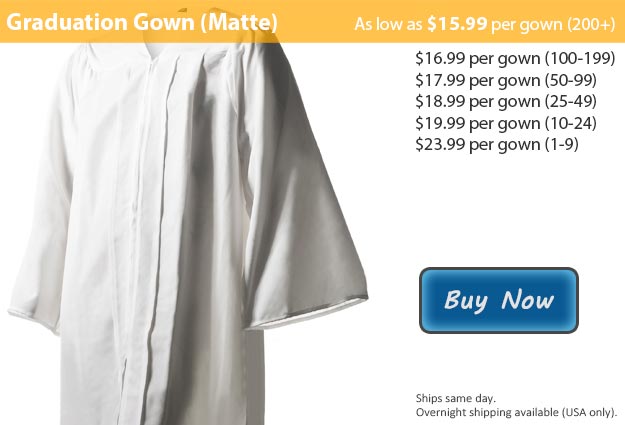 Matte white graduation gowns are a really great way to go. Usually worn to match your school color or by students graduating in liberal arts, the white contrasts remarkably with any of our graduation accessories that we have available.
All of the hard work that you have put in over the past few years is finally coming to an end. Your graduation marks the successful completion of this part of your journey. Chances are that making it to this point was no easy feat, it takes a lot of work to reach your goals and earn your diploma or degree. I'm sure that you were faced with countless hardships along the way but hopefully you managed enjoy yourself somewhat and built a few friendships as well. It is very important to dress appropriately for your graduation ceremony. Your family and friends will all be there to show you how proud they are of you for accomplishing your goal of graduation. It has been the tradition for many years now for graduating students to wear a graduation cap and gown at the time of their ceremony.
At Honors Graduation we have everything that you need to be ready in time for your graduation ceremony. We have multiple package deals for quick checkout. Our Cap & Gown + Tassel deal has all of the basics that most schools require in order for students to walk at graduation. You get your matte white robe, the matching cap and the tassel of your choice at no additional cost. Any time you purchase a graduation cap from us we will throw in a tassel at no charge to you. We also have each of our inventory items available for separate purchase as well for your convenience. All of the matte robe color options we have are also available with a shiny finish as well.
Not what you're looking for? Check out our Complete List of Graduation Gown Fabrics and Colors.
This graduation robe is also available in White Shiny Fabric.