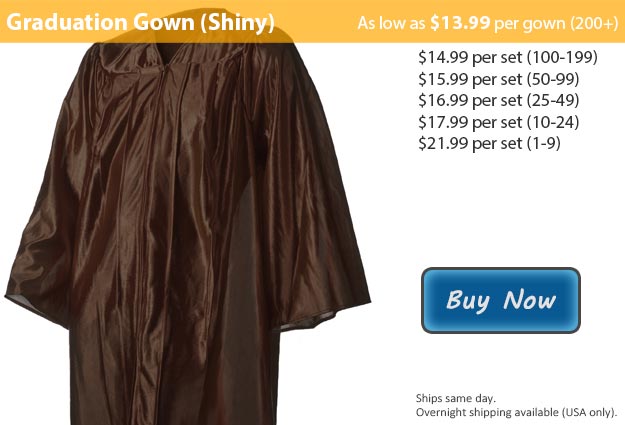 Shiny brown graduation gowns are an important part of graduation. At Honors Graduation we know just how important your graduation is, that is why we have all your graduation needs including shiny brown graduation gowns. Graduation is a celebratory tradition that was created to honor the years of dedication and your success on all the hard work that you have endured to reach this point. I'm sure that along with all the challenges that stood in your way you were able to make a few decent friends to help you keep going and probably even an unforgettable memory or two as well. Above all you learned that no matter what obstacle is blocking your path, you can overcome anything you set your mind to. As you end this portion of your life with your graduation ceremony, get ready because your next adventure is about to begin.
Students who are graduating more commonly than not dress in a cap and robe at the time of their ceremony, usually accented with graduation tassels, cords or even stoles. Our shiny brown graduation gown is a marvelous choice that allows the full color of your cords and tassels to flourish. Accept your diploma or degree in confidence with a little assistance from the pros over at Honors Graduation.If you prefer matte over shiny, each of the gown colors that we have are available in both selections.
When you purchase any graduation cap from Honors Graduation we will add a tassel set of your color choice to your order at no additional cost to you. We have bundle deals for your convenience that include a robe and the matching cap plus your tassels for quick and easy check out or you may purchase your items separately as well. Our graduation gowns are available in a large amount of sizes including several plus sizes to accommodate for graduates 2 foot 10 inches up to almost 7 feet tall, so you can be sure that we'll have you covered.
Not what you're looking for? Check out our Complete List of Graduation Gown Fabrics and Colors.
This graduation gown is also available in Brown Matte Fabric.