Blue graduation cords are one of our most popular colors (along with red, gold, silver, and white). In addition to offering multiple shades and hues, we also offer several braided honor cords with blue as either the primary or secondary color.

We have all of the following blue graduation cords in stock, with most orders being able to be filled and shipped the same day they are ordered (as long as the order comes in before three o'clock p.m. mountain standard time); Royal Blue, Navy Blue, and Light Blue. We also offer Royal with Gold, Royal with White, and Red, White, and Royal braided or intertwined cords.

Royal Blue honor cords are overwhelmingly our most popular color, with a very prominent, vibrant, and distinctly traditional strong azure blue hue. This blue matches the school colors of many high schools and colleges throughout the nation including the University of Delaware, and is prominently featured in the colors of many collegiate honors societies, fraternities, and sororities. Royal Blue is the official color blue used on the flag of the United States of America, and is used in patriotic and military societies like SALUTE.
Navy Blue graduation honor cords and ropes are a very dark shade that nearly approaches the color black in darkness, but is still very clearly blue. Navy is used in the official university colors of the University of Arizona, UC Berkeley, Georgetown University, University of Illinois, University of Notre Dame, University of Mississippi, and Syracuse University, among many others.
Our Light Blue cords are similar in color to a Baby Blue or Powder Blue and are most often purchased as double cords, tied together with a cord of another color.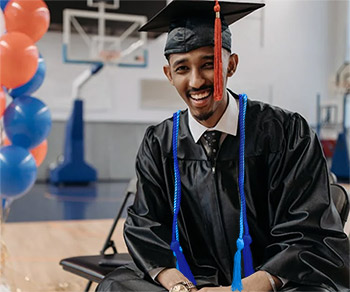 While braided or intertwined cords, like those used by the French Honor Society and the FFA are only available in a few color options, you can always request two cords tied together like the ASGA honor cords to get your school or organization's colors for an upcoming commencement ceremony.
Not what you're looking for? Check out our Complete List of Graduation Cord Colors.