Black graduation cords can provide steadiness and solemnity at your school graduation ceremony. Crafted from the most durable synthetics, our black honor cords will be a reminder of your students' academic success and growth for years to come. With elegant simplicity, black graduation ropes create a sense of unity with the noble traditions of academia as your graduates receive recognition for their educational development. Black graduation ropes can serve as a symbol for almost any scholastic or other special achievement, and also function as a subtle allusion to the traditional black robes of the academic world.

As a symbol of leadership and strength, the black honor cord is worn by scholars across the nation, and the world. Many academic honor societies use black graduation ropes to signify membership, or excellence within their designated field. Your student may be honored with a black graduation cord for special honors in political science, English studies, leadership, or community service, as well as many other areas. The black honor cords also inspires a certain sophistication and power in graduates, urging them to trust in their own strength as they take their next step into the world of business, education, science, or the fine arts.

Our black graduation ropes come in the traditional dark shade, which can easily be matched with almost any other color. For a more interesting contrast, match your black honor cords with white, or light-colored graduation robes. You may also want to try combining the black graduation cord with one of our other colors, such as forest green, burnt orange, or orange graduation cords to signify special honors for excellent students, or just express school spirit by donning the colors of the alma mater for your commencement ceremony.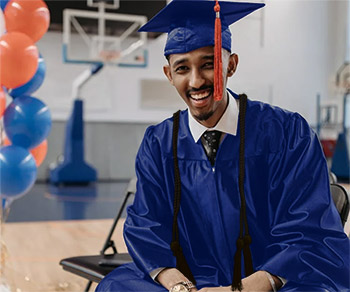 Related Cords and Colors from Honors Graduation:
Not what you're looking for? Check out our Complete List of Graduation Cord Colors.