Orange graduation cords at any commencement ceremony will bring a sense of independence and ingenuity to the graduates. With our orange honor cords, crafted from all synthetic materials, your graduate will feel confident in their unique academic experiences. These durable orange graduation ropes will easily last through the stress of graduation day, and for years to come, leaving you and your students to focus on the more important aspects of this moment in their academic careers. Let our orange graduation cords be the finishing touch on an already incredible day in the life of your students.

Double cords with orange are popular when used in to represent high school colors, or as the secondary color in two-color orange cords such as royal blue and orange or black and orange. There are also several hues and shades to choose from, from tangerine and salmon to burnt orange.

The orange honor cord represents individuality and strength for your graduating class as they embark on their next adventure in academia, and in life. Though life may take them to unpredictable places, your students will be tethered to the familiarity of their educational experiences. Through the orange graduation cord, your students are recognized as exceptional, unique, and ready to face the next phase of their life experience. In the academic world, orange is most often associated with particular academic success in the field of engineering, and is used by one of the oldest academic societies in America. You may want to use our orange honor cords to award students who have earned an International Baccalaureate cord, particularly if the traditional blue IB cord color is being used by another academic group at you commencement ceremonies. Orange also makes a great color honor cord for students at their homeschool graduation With this rich heritage of academic integrity and excellence, your students can feel a connection with the tradition of academic honor into which they have now become a part by donning their orange honor cords.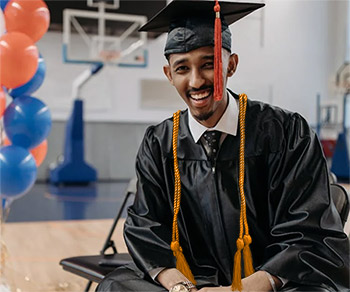 Our orange honor cords will stand out at your graduation ceremony with their deep and bright shade. They can easily be paired with our black, navy, or royal blue cords, and look excellent on robes in any of these shades. For a more distinctive graduation look, try pairing our orange cords with maroon, red, or yellow. However you choose to use our orange honor cords, your students will look professional, and feel ready to enter into the next part of their educational experience.
Orange is one of the colors of Oklahoma State University.
Not what you're looking for? Check out our Complete List of Graduation Cord Colors.