Our white honor cords are in high demand and sell quickly. White Honor cords are versatile as they combine well with any color they are put with. We have braided with these beautiful white cords: red/white/blue, and Kelly green/white. With only two braided styles of white, the cords commonly doubled with white are never ending. While white can be doubled with any color the most prominent colors seem to be our red, black, gold, royal blue, and green honor cords. Not only does it go well with the main colors but all of the different shades combined with white make for a splendid display of achievement. Antique Gold, Kelly Green, Dark Forest Green, Light Blue, Navy Blue, Yellow, and Maroon are some examples of great cords to be doubled with white honor cords.

Many schools and honor societies use the white honor cord, especially in conjunction with other colors. White as a secondary or tertiary honor cord color is the most popular color for combinations.

If your graduation robes are a solid color for example blue. A single white cord would be a great choice, or you can double the white cord to promote a certain area of achievement or characteristic about you. Each color has meaning and represents something important to you or to a group of individuals. Honor Societies, colleges, high schools, and more all pick out colors to represent themselves. These colors are decided by the way values and attributes each organization hopes to provide for their members.

White is considered the color of perfection. White represents a new beginning and a safe journey. The white color itself is a symbol of simplicity, calmness, and ease. A white honor cord speaks volumes for the individual who wears it. White graduation ropes represent special achievement in almost any area, even extracurricular activities and community service. Make sure your students are rewarded for their special talents and excellence, and order your white cords from Honors Graduation today.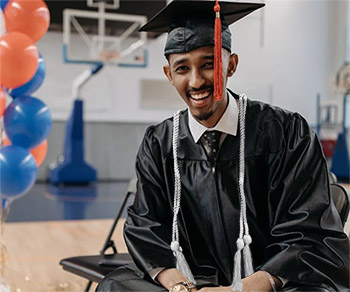 More Suggestions for Colors to Pair with White:
Not what you're looking for? Check out our Complete List of Graduation Cord Colors.