Silver Graduation Cords are fantastic way to show off your achievement or school spirit on graduation day. Our standard length silver honor cords are made from the highest quality materials and are sure to please. Some of our intertwined graduation cords also feature the color silver, such as the red and silver graduation cords. Silver cords look great by themselves, tied together, or double tied with any other color. If you are looking for silver tassels we also have Green and Silver and Black and Silver graduation tassels, which both feature silver date drops of your desired graduation year. These can be worn with your cap and gown to your commencement ceremony along with your silver honors cord. Silver could also be used as a substitute for platinum cords.

Silver is especially popular as a secondary color to combine with other colors in multi-color cords, or in double cords. Popular combinations include gold, black, green, blue, purple, and red.

Many honor societies and student organizations use silver in their honor cords, or silver + a secondary color to denote sub groups within the society. For example, an organization may choose to use six different cords for their students all with two silver strands and one distinct strand depending on the emphasis or focus of certain members (e.g., business, marketing, finance, accounting, human resources, etc.).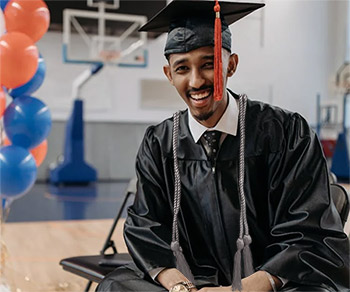 Silver is one of the few colors that we offer that originates not from the color wheel, but from a metal naturally found in the earth. Silver is similar to grey, but is made to look like polished silver. The silver graduation cords that we offer do not have any kind of false metallic shine (they do not look like tinsel), but rather have a natural luster from the quality of the fabric used to create the graduation cord.
Not what you're looking for? Check out our Complete List of Graduation Cord Colors.