Pink graduation cords can add a subtle touch of beauty to the reverent nature of the graduation ceremony. Our durable pink graduation cords are made from all synthetic materials, ensuring that they will last, not only through the hectic day of the ceremony, but for decades to come. Your graduate will cherish the pink honor cords that set them apart for their academic excellence, and the simplicity of the pink ropes will inspire creativity and individuality for the rest of your student's educational experience.

Cords with pink as a primary color are especially popular in student organizations and sororities. Pink cords with a secondary color (where pink is the main color of the cord) are much more popular than cords with rose or cords with pink hues as secondary colors.

Our pink honor cords come in two shades; "Rose Pink" is a deeper, darker shade, while "Pink" is a lighter, more traditional pastel. Both hues signify creativity and artistic ability. Through often associated with excellence in the fine arts, the pink honor cord may also represent academic honors in medicine, mathematics, and chemistry. Pink graduation ropes are also used by several academic honor societies, including the Music Honor Society. Pink is one of the original hues included in the academic dress standard tradition, and the pink graduation cords we provide can bring a sense of honor and historical connection, in addition to pride and achievement, to your graduation exercises. Acknowledge your students' particular talents with our pink honor cords, and encourage them to continue developing their creativity as they move forward in their academic journey.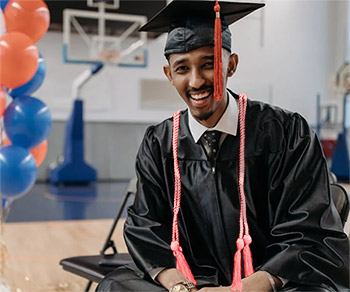 Pink graduation ropes looks elegant against white, or black robes, but can also be easily paired with greens, yellows, and blues. Mix and match our pink honor cords with any of our other colors, such as kelly green, forest green, teal, or brown graduation ropes to give special honors to students, or to show school spirit at graduation. Whether you are a teacher, a school administrator, or the proud parent of a graduate, you have helped your students develop their creativity. With our pink graduation cords, you can acknowledge their growth and development, and congratulate them on their success.
Not what you're looking for? Check out our Complete List of Graduation Cord Colors.