Purple Graduation Cords are an excellent way to commemorate your achievements in academia. There are many hues of purple, our purple cord is closest to a Royal Purple. We also have a lavender honor cord that is a light or soft purple. In addition to wearing purple to symbolize school colors or achievement in a club or society, purple is often used to distinguish high school officials such as the President of a College or University, Deans, Faculty Heads, etc. Purple is worn, often a royal purple, by these high ranking officials in their paraphernalia, no matter what they originally graduated in.

Purple as a color often is symbolic of royalty and therefore has a very dignified air to it. In academics purple also often signifies divinity, which is why many religious schools, seminaries, and theological clubs and societies have purple as their color or one of their color and sometimes use purple honor cords. The following is a partial list of schools that sport purple as one of their school colors:

University at Albany
Alcorn State Univeristy
Central Arkansas University
Clemson University
University of Evansville
Furman University
High Point University
College of the Holy Cross
James Madison University
Kansas State University
Louisiana State University
Niagara University
University of Northern Iowa
Northwestern University
Northwestern State University
University of Portland
Prairie View A & M University
Stephen F. Austin State University
Texas Christian University
University of Washington
Western Illinois University
Weber State University
In addition to being a common school color, purple is also used in many organizational honor cords. Purple honor cords are also sometimes used to denote membership in HOSA.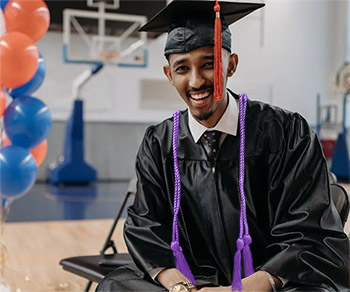 There are several honor cord colors that mix well with purple graduation cords. Most specifically a gold honor cord goes very well with purple, and is used for the Who's Who award. Other colors that look good mixed with purple are black honor cords, and yellow honor cords. Purple and gold are often seen together and are the school colors of many academic institutions on all levels. From preschools to elementary schools, even middle schools and Junior High schools, you will see gold and purple as school colors. It is also very common in High Schools, Preparatory schools, colleges and universities. Some of these schools mascots include animals like the Husky (University of Washington) and the Tiger (LSU).
Some of the different kinds of purple are: Royal Purple; Red-Violet, also known as artist's purple; and last but not least is Electric Purple, which is a fairly new name for the color exactly in the middle of violet and magenta. Our cords are a royal purple, are very beautiful, and are sure to make you happy for your graduation needs.
Not what you're looking for? Check out our Complete List of Graduation Cord Colors.