Brown graduation cords can offer feelings of success and optimism for the future for graduates at their commencement exercises. Our brown honor cords are made from durable, all synthetic material, making it possible for your graduates to remember the special honor of their academic achievements for many years. The brown graduation cord can serve as a lasting symbol of their hard work and determination in their educational experiences, and can encourage them in their future endeavors.

Cords with brown or brown-adjacent hues (such as bronze or old gold) are most popular where school colors include brown, or where shades of brown cords such as old gold are used to denote excellence in academics.

The brown honor cord is a symbol of focus, power, and determination for success. Graduates who don brown graduation cords are most often recognized for their success in the fields of business, drama or the sciences, such as geography. Some academic honor societies, such as Gamma Theta Upsilon, work to encourage students to examine the cultural ramifications of their studies, and reward them with brown graduation ropes when they are particularly successful in their area of study. The brown honor cord may also be given to any student who has focused on gaining experience, not just in the classroom, for whatever their chosen field may be. By offering your graduates our brown graduation cords, you are encouraging them in their practical research and their determination to succeed in whatever they choose to do with their lives.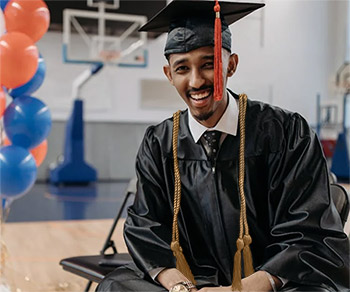 Our brown graduation cords look professional with the traditional black graduation robes, and pop with contrast against the classic white gowns, but may also look sleek with any number of colored gowns. For an interesting combination, try matching the brown honor cord with one of our other colored cords, such as burnt orange, green, or teal graduation cords to acknowledge a student who has achieved multiple honors, or to give to students who wish to don the colors of the alma mater to show school spirit on their graduation day. Brown graduation cords will serve as a constant reminder of the work your students did to reach commencement, and will make the day of graduation feel inspiring and rewarding.
Not what you're looking for? Check out our Complete List of Graduation Cord Colors.