Green graduation cords come in three varieties, Kelly Green, Forest Green, or traditional Green. These three cord colors are extremely popular, and are frequently ordered in conjunction with other color honor cords in the double-tied style. You can also zero in on the exact shade or hue of green you are looking for with our citrus, mint, turquoise, olive, or teal colored cords.

Green can also be selected as a braided or twisted cord with Kelly Green intertwined with White, or as a Gold with Green Graduation Cord. We have hundreds of color combination options in stock, which you can see by following the buy link above.

Kelly Green cords are common in school or honor society colors when those schools or societies use a very bright, very vibrant green as one of their official colors. The name Kelly Green comes from the Irish roots of the color. Marshall University and Mercyhurst College both use Kelly Green as their official school color, and might consider offering honor cords in Kelly green to students who are graduating cum laude. Kelly green is also one of the colors used in fraternity and sorority cords.
Forest Green honor ropes are a dark green that appear to have something of a slight bluish hue to the dark green cord. Forest Green is similar in color to Hunter Green and Cal Poly Green.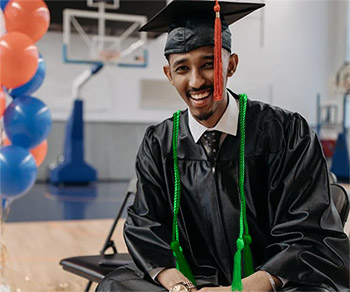 A standard Green graduation cord is a very vibrant green hue, very much in the middle between the other two in terms of brightness. It could be referred to as a medium green. Green Graduation Cords are used by many honor societies.
Not what you're looking for? Check out our Complete List of Graduation Cord Colors.