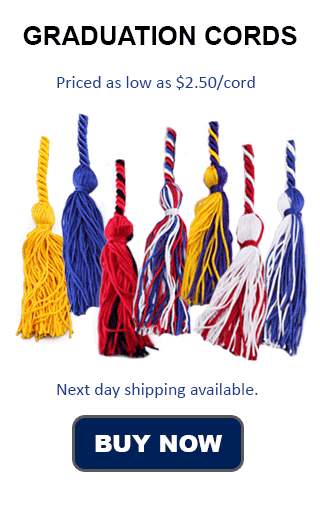 Students who graduate summa cum laude, or "with highest honor", are often recognized by name on a program during graduation ceremonies, but an honor cord can serve as a special token of their achievement, even long after commencement exercises have ended. Your summa cum laude students deserve to be respected and honored for their hard work and diligence throughout their educational careers, and an honor cord is the perfect finishing touch for the graduate who has surpassed all expectation. Presenting summa cum laude graduates with an honor cord will help encourage them as they continue on in the next part of their life's journey.
Our honor cords come in a wide variety of colors, so you are sure to find a summa cum laude honor cord that fits your commencement needs. While there is no rule dictating the color of the cord awarded to a summa cum laude graduate, we recommend that you choose a color that will stand out against the shade of your students' graduation robes. You may also want to consider recognizing your summa cum laude students with a double, or a braided cord, setting them apart all the more for their academic honors. Most summa cum laude students achieve this honor by meeting certain grade point average requirements, but some schools also choose to give the honor to those who have exhibited school spirit and active community service in addition to their academic scholarship. The requirements for this special honor are up to the discretion of your school and district.
Using a graduation cord to honor summa cum laude students is the perfect way to end one phase of their lives and introduce the next. Recognize the success of your students and all their potential for the future by including summa cum laude graduation cords in your commencement exercises.
Not what you're looking for? Check out our Complete List of Graduation Cord Colors.