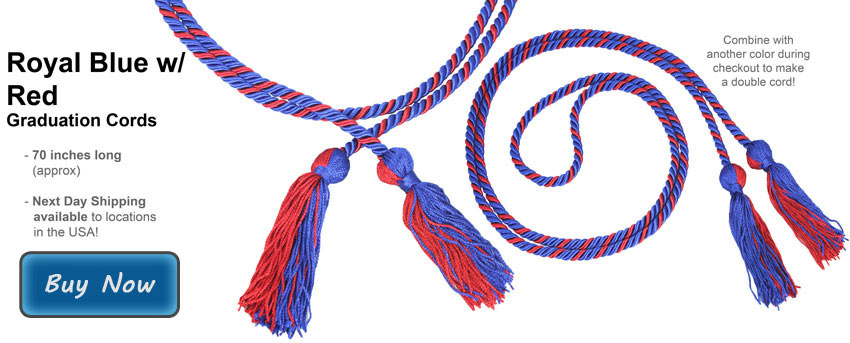 When graduation day finally comes, all of the stress and anxiety of preparing for it is replaced with excitement for the future and calming confidence that you did it! Our royal blue and red honor graduation cords help to do just that! Royal blue is known for its calming effects and red is known as a power color. Together blue and red bring a nice feeling of balance.
Royal blue and red are strong colors that represent many honor societies and universities. For example, the Omega Rho International Society, a society for operations research use blue and red. The Phi Delta Phi International Legal Society, is the oldest legal organization in continuous existence and uses blue, red and white. Our royal blue and red honor cords could be tied with a solid white honor cord and be used to represent this well known honor society. The French National Honor Society is an honor given to high school students who excel in the French language. As far as school colors there are many universities that wear the blue and red proudly! These schools include Colorado State University-Pueblo, Dixie State College Of Utah, King College, Ohio Valley University, Shippensburg University Of Pennsylvania, and University Of West Georgia.
Here at Honors Graduation we like to provide nothing but the best. From the order of our cords to the delivery we make sure you are taken care of! One way we do that is by providing quality honor cords. Our royal blue and red honor graduation cords are made of a high quality rayon. There are two strands of royal blue twisted together with one red strand to make one long cord. The cord, with a tassel at each end, stretches 70 inches. Since they are 1/4 inch thick, they lay nicely and are not distracting. Take our word for it, these cords are the perfect finishing touch for the big day!
Not what you're looking for? Check out our Complete List of Graduation Cord Colors.