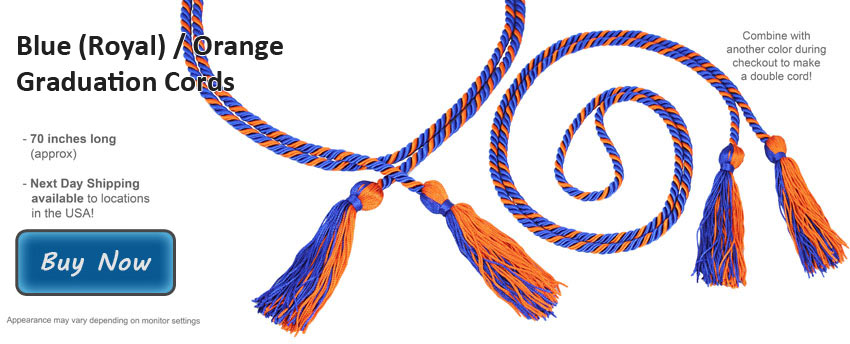 A classic color combination: Royal Blue and Orange honor cords give the graduates a feeling of optimism and peace walking into the commencement ceremonies at the end of their high school career. Having the two strands of the royal blue, and one strand of orange. This flexible all synthetic rope made with rayon is the perfect type of graduation honor cord to help last well through your student's lifetime. This honor cord not only signifies the great academic achievements made throughout their time at school, but helps to serve as a reminder to always keep a positive outlook on life; knowing that they have made incredible feats in the past.
The blue and orange honor cords measure at 70 inches each, with tassels on both ends taking up 4 inches each. Many different schools and honor societies use these colors to represent their school, and the learning they promote there. Some of these schools include Boise State University and the University of Florida. The blue color in a graduation ceremony usually represents an excell in philosophy, while an orange is commonly an engineering achievement.
We offer many different color combinations with the royal blue. Such as royal blue and black, royal blue and white, red white and royal blue, and the royal blue with gold. So keep that in mind when you're ordering our honor cords. Along with single cord color combination, there are also a variety of other single cords you can pair with these blue and orange honor cords to make them a double tied cord. The blue and orange would look great matched with the solid white, blue, orange, black, any many other graduation honor cords. Whatever combination you do, whether it be the royal blue and orange, or maybe paired with a white cord, your graduates will walk into graduation feeling prepared and optimistic.
Not what you're looking for? Check out our Complete List of Graduation Cord Colors.