Red Graduation Cords from Honors Graduation are very bright and vibrant in color. Red honor cords are commonly braided with, or tied double with, other graduation cord colors to help add balance and variety to the individual. The red braided cords that we carry in stock are: red with black; black with red; red with silver; red with white (which might be used for FCCLA cords); red, gold, and black; and red, white, and blue graduation cords. Popular colors that are often associated with the bright red honor cords are: Gold, Royal Blue, White, Silver, and Black honor cords.

The most frequent Honor Society that orders our red honor cords is the Spanish National Honor Society. They have two options to order just a single red cord, or double that red cord with a gold or yellow graduation cord to match the colors of the Spanish Flag. Other Honor Societies use red honor cords. You may want to pair our red cords with blue and white for military service. We also offer a variety of red-adjacent colors such as maroon, rust, salmon, and rose pink.

Graduation ropes are one of the best ways to honor your students at their commencement exercises. By ordering through Honors Graduation, you know you will be getting the highest quality red graduation ropes for the best possible price. Our red ropes are a standard 70 inches in length, including tassels on each end of the cord, and 1/4 inch wide. Made from high quality rayon, our red cords are durable and long lasting, so your students will be able to wear their ropes throughout graduation day, and cherish them for years to come.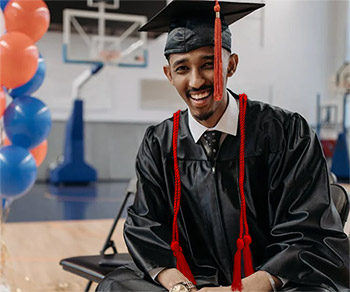 A red honor cord symbolizes courage, vitality, strength, and desire. Red stands out above the colors with its vibrant and powerful display of bold characteristics. The color red is a great symbol of the sacrifice, determination, and willpower given to reach ones goals. You are sure to enjoy red graduation cords from Honors Graduation, and will also be happy to get them quickly. We ship most of our orders out on the same day, and with our fast shipping, we'll get your order shipped the same day it is ordered, no matter the size.
Not what you're looking for? Check out our Complete List of Graduation Cord Colors.