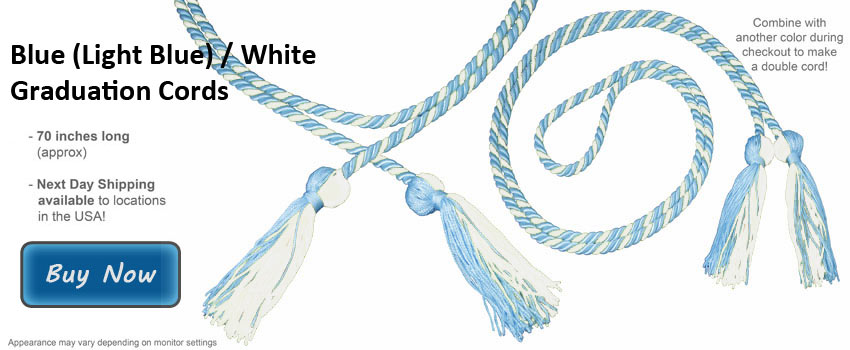 At Honors Graduation, our light blue and white graduation cords are sure to perfectly complete your graduation ceremony. Whether students are being recognized for a particular achievement, or whether the cord is being presented to all students to complete your school colors, our high quality honor cords will beautifully cover your needs. Measuring 70 inches long, ending in two graceful tassels, each cord is elegantly braided together. The one fourth inch diameter cord is also made up of 3 fine ropes, of which two are light blue, and one is white. The graduation cord is also made of rayon, which means it will not only have an attractive look, but will make for a long-lasting keepsake.
Our light blue and white graduation cords will be perfect to present particular honors or achievements to students, particularly they are included in your school colors. Some universities that whose school colors include blue and white are the following:
University of North Carolina
Grand Valley State University
University of Arkansas at Fort Smith
University of Connecticut
Yale University
Georgia State University
Drake University
University of Kentucky
Creighton University
Additionally, several collegiate honor societies use blue and white to recognize their students achievement, including Chi Sigma Iota, Gamma Sigma Epsilon, Kappa Kappa Psi, Omicron Delta Kappa, and Tau Beta Sigma. We also carry royal blue and white graduation cords, so be sure to compare between that cord and this to decide which one more closely matches your needs!
As you select the perfect graduation cords to complement your purposes during commencement, you may be additionally interested in the significance between the colors light blue and white. Light blue is associated with understanding, which is a great quality to celebrate as students reflect on their achievements. White also denotes light and purity, which can aid the symbolism of a fresh beginning in graduation.
Not what you're looking for? Check out our Complete List of Graduation Cord Colors.