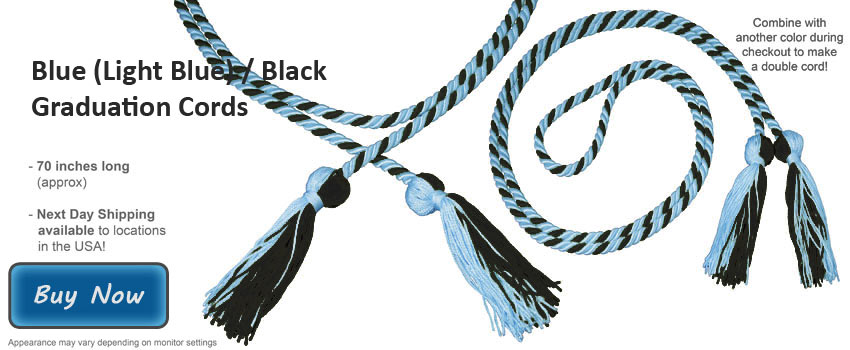 Our light blue and black graduation cords are made of a high quality rayon that not only looks great but is very durable. The rayon brings out the soft beauty of the light blue strands and the deep true color of the black strands. Because of the quality of the rayon, these light blue and black honor cords will look new for years to come and serve as a great souvenir and memento to look back on.
The light blue and black honor cords are a beautiful mix. These honor cords are made up of three strands. There are two strands of light blue and one strand of black. With more light blue than black it looks like a nice outline of the light blue. The contrast in the two colors give a nice strong feeling to them. The two strands of light blue and one strand of black are twisted together to make one long cord. When these strands are twisted tightly together they measure out to 62 inches in length and are one forth of an inch thick. There are tassels at each end of the twisted cord. Each tassel is four inches long. Altogether, from the tip of one tassel to the tip of the other tassel, the light blue and black honor cords measure out to 70 inches. The thickness and length of the cord are perfect on and for anyone.
We guarantee satisfaction! Here at Honors Graduation we believe in quality. We believe in providing our customers with the best. We promise that your transaction with us will go smooth and be easy from beginning to end. With our great product, great service and great prices we are unbeatable! Don't wait until the last minute to order. Call and ask about our bulk orders and we can help you make your order today!
Not what you're looking for? Check out our Complete List of Graduation Cord Colors.