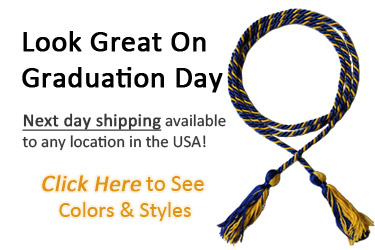 Graduation cords are what we here at Honors Graduation know and do best! If you or your graduates are in need of honor cords for an upcoming university or high-school commencement ceremony, we'd be happy to make the process as easy as possible for you so you aren't stuck worrying at the last minute if your cords are going to arrive on time.
Our graduation honor cords are made exclusively from high-quality materials and shipped locally, with US-based in-house customer support, so we can actually help you with your questions and any concerns that you might have!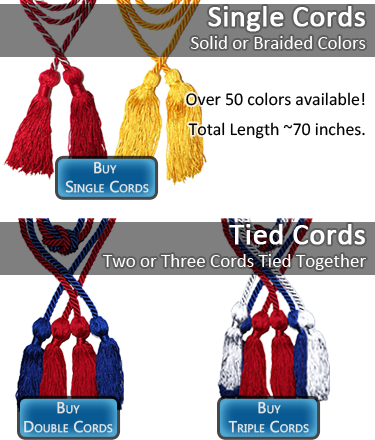 School or Club Purchasers, Purchase Orders & Custom Color Requirements
Our graduation honor cords and company policies are designed to fit around your schedule and your needs.
Schools, universities, and other organizations that may need to obtain a large quantity of cords, go through a procurement office, or have purchasing restrictions, don't worry, we will work with you.
Honors Graduation accepts

purchase orders

and all major purchasing cards. If you will be submitting your order via purchase order, just choose that option during the checkout process.
We offer shipping both inside and outside the United States.
If you have questions about bulk discounts, just give us a call.
Every color that we have in stock will be listed on our website. If there are any issues with stock, we will make that known as soon as possible. Custom colors or cords can be purchased in advance (please provide at least two months) for quantities exceeding 100.
Honor cords for graduation can fulfill a variety of purposes, honoring students who are graduating "with honors" in the traditional Latin system (cum laude, summa cum laude, & magna cum laude), representing the schools or faculties within a university, or distinguishing members of certain groups, clubs, or honor societies.

We have over 150 rope colors or twisted color combinations. Cords are approximately 70 inches long and 1/4 inch in diameter. Tassels are each approximately 4" long.
A

single color cord:

as you can see in the image above, we offer many honors cord colors tailored to what is most popular with schools, although other color arrangements can be made. Options include yellow, gold, antique gold, orange, burnt orange, royal blue, navy blue, light blue, purple, green, dark green (or forest green), bright green (also 'kelly green'), silver, white, black, pink, rose pink, red, and maroon.

A braided cord: is one cord with multiple colors twisted or braided together. Usually these will have 2 strands of one a primary color and one of a secondary, although 3 color cords are also available. The most popular color options for a braided grad cord are royal blue with white; royal blue with gold; red, white & blue; red with silver, red with black; black with red; gold with green; bright green with white; and black, red & gold. See our example of cord color combinations, below.

Braided, or Intertwined, cords and single color cords have matching price structures.

A

double-tied cord:

is any graduation cord tied together with any other. Double-tied cords cost as much as two single or braided cords.
Get our highest-quality honor cord,

money-back guarantee

. If you are not satisfied with your purchase for any reason you can cancel your order and return the cords to us for your money back. If the return was for a reason other than a mistake on the part of Honors Graduation or a faulty or defective product, the cost of shipping both ways will be handled by the purchaser. All cords, defective or otherwise, must be returned within 7 days to qualify for our money-back guarantee.
Cord colors shown above are intended as a guide but may display differently depending on your monitor, web browser, or system settings.
A graduation honor cord from Honors Graduation isn't just making a purchase online, it is an investment in your peace of mind. We offer the highest quality cords for students and graduates available anywhere, with a money-back guarantee if you aren't satisfied. Treat your scholar with something that will have him or her looking great at their high-school or university graduation ceremony!
If you think you can beat a rate you found on our website, call us, we'd love to talk to you!
Graduation honor cords for a high-school, college, or university commencement ceremony.