NSCS Graduation Cords are Burgundy and Gold in color, and are for the National Society of Collegiate Scholars. The Burgundy and Gold cord is a double cord, not intertwined. This means it is made up of one gold honor cord and one burgundy honor cord tied together to make one double graduation cord. A braided cord would be gold and burgundy both in the same strand. The NSCS cord is like the first example.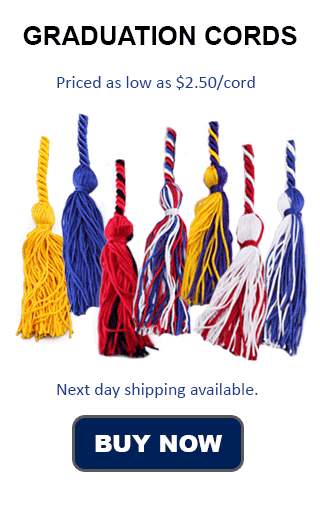 To order a Burgundy and Gold cord from Honors Graduation, simply select burgundy from the color drop down menu. Then click on the double button to make it a double cord. A second drop down box will then appear, so that you can choose the second color of the double cord. For an NSCS Honor Cord you will, of course, want to select gold for your second color. One important thing to note is that a burgundy and gold graduation cord from Honors Graduation will not include the National Society of Collegiate Scholars miniature medallion with the cord. You can, however, count on our high quality cords to get to you faster, and at a much lower price.
The purpose of the NSCS is to recognize and develop good leadership and scholarship in 1st and 2nd year college and university students. The society offers invitations to students to join the society if they are in the top 10 percent of their class in their freshman or sophomore years of post secondary education. The NSCS was founded at George Washington Universty in 1994, and has grown from there to have over 800,000 members.
Community service is also a part of NSCS, as are scholarships, mostly through partnership organizations. The NSCS offers almost half a million dollars in scholarships annually. They have over 280 chapters in the United States.
Not what you're looking for? Check out our Complete List of Graduation Cord Colors.